What Lies Beneath: Emily Dickinson by Stefania Morgante
Thanks to Niall McMonagle and his weekly column on Sunday Independent.
Here all the interview (thank you Margherita Salterini)
Emily Dickinson was the big discovery of my 16th year of life. A summer of passion and torments, the boredom in high-school, the doubts about my talent, the questions about my future(an artist? Yeah, sure!), the blue mountains and the flourished lands where I started reading this poet, the one I discovered in that small market one sunny day in Udine. Two books, par I and part II in English and Italian. A sharp, essential and blinding language. Beautiful metaphors. Words as if they are scalpels. If Emily Dickinson represents my 16, Sylvia Plath represents my 18-20ies. Just after high school and the beginning of University.
As much as E. Dickinson explores the world trough a social silence, Sylvia Plath explores the world from a female point of view with new roles. Finally, but not without suffering.
Work, study, career, motherhood, art, family. Sylvia Plath approaches everything with a deep discomfort and the awareness that being weak is never completely forgiven by the rest of the world. To fulfill the expectations was a matter in the 50ies as it is today.
For my graduation thesis I picked a poem by Sylvia Plath: The Disquieting Muses, inspired by Giorgio De Chirico's painting.
I think that's the moment when I decided my path: writing and visual arts were my language, both needed to express myself. I've always dedicated myself to poetry and painting. I deeply need them both. But here's the thing: In Italy, whoever decides to combine two different fields rather than just choosing one and specializing in it, can often hear comments like you're not a writer, you're not a painter, if you do too many things, you'll probably be bad at them all.
I live in Northern Italy, in the region called Friuli, more precisely in Tarcento. My father was born here and he died last year. That's when I decided to move here, one day during last August. My father was my North, and today I can say he told me to move here, that day, july the 6th. I've always loved these places. My ancestors' house is here, my grandma's vegetable garden, the rivers, the mountains. A land made of unbelievable colors
I was born in the South of Italy, my mother is from Puglia. I attendend primary and secondary school in Brindisi, then high school in Lecce (very famous for Barocco style) and the university in Bologna (the very first university in Europe, where I had the great honor to meet Umberto Eco and Gianni Celati as my professors). Then I lived in Sardinia for 20 years.
Now that I'm here, I have a studio in front of the mountains, where I write and create (as soon as I manage to organize the boxes that contain my previous life). I move by bike, I take care of my garden. I'm kind of Emily Dickinson after all.
The portrait of Emily Dickinson comes from the idea of an exhibition I had 4 years ago, but never got the chance to do. I wanted to picture universally famous women, that had a special meaning in my life. Something that could remind people that art is with no gender. We often forget about the importance of the woman's role, even today. We must remind to our young generation where we come from. Dickinson, Plath, Amelia Rosselli (that I've met and spent time with for a few months; she pushed me in writing and writing and writing some more, then leave everything to rest in a drawer. If you have nothing to say, just don't say anything she said), Grazia Deledda the Italian Nobel who was born in Sardinia, where I lived for two decades.
I used unusual medium. Mostly collage( after a course I attended at MoMa with Katerina Lanfranco) and watercolors.
The collage mixed with traditional techniques is not that great invention. But I do love the conflicts in my art: to realize the portrait of Emily Dickinson I used the pages of the magazine Vogue. Nothing more inappropriate than that: fashion, glamour, lights and shows.
The result is nevertheless rigorous and earnest. Even in those pages, where there is a noisy and ostentatious world. On the pages I used black ink and watercolors.
Watercolors are my payback, almost a zen exercise. After a rich and strong period, with details in excess, I chose to take away, to reduce.
And watercolors are perfect for that: you don't need layering, you don't need retouching and revision.
I want to reach the essence, I want to clean the unnecessary, to use the essential. Just like Emily Dickinson poems, clear and perfect as they are, both in form and content.
Someone told me that the portrait is too evanescent, Emily Dickinson appears like in a daguerreotype.
And, come on! A poet? Seriously? How can you even think about painting a long dead poet, with collage? That's boring and old style!
I recently moved, and that painting is on the floor, near my desk, just like the other one, Sylvia Plath. I truly hope they'll find their home soon, I don't really enjoy creating for myself. I judge me too much. They would probably be happier if they could find a way to be out of my studio as soon as possible.
I've never been to America. But the trip I have been dreaming about for years includes Amherst and New England. Pollock's house(where I'd love to walk on the glass that maintains the color on the floor) and every literary and artistic spot in New York. But also, O'Keeffe's places and so much more. Impossible to choose. I just dream about it, for now.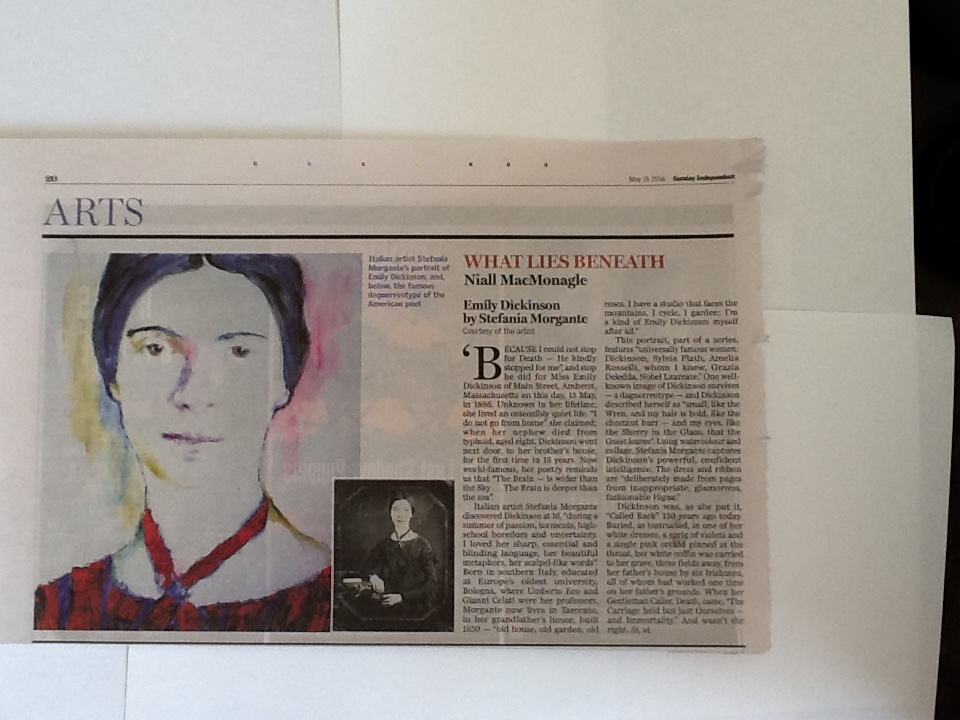 Ecco la versione integrale in italiano.
Se Emily Dickinson e' stata la rivelazione dei miei sedici anni (una estate di passione e tormenti, la noia del Liceo, i dubbi sul mio talento, su cio' che avrei voluto fare nella vita-l'artista, figuriamoci!-le montagne azzurre e i prati fioriti dove comincio a leggere questa poetessa, scoperta su una bancarella di libri usati in un pomeriggio assolato a Udine. Due libri-parte I e parte II-in inglese e italiano. Che lingua affilata, essenziale, accecante, che meravigliose metafore, che vita rigorosa, le parole come bisturi).
Se la Dickinson sono i miei sedici anni, Sylvia Plath sono i diciotto/venti anni, finito il Liceo e iniziata l'Universita'.
Tanto la Dickinson esplorava il mondo attraverso il "silenzio" sociale, quasi monacale, tanto la Plath si e' catapultata nelle questioni femminili del mondo che iniziava a darci ruoli diversi, finalmente, ma che sofferenza.Il lavoro, lo studio, la carriera, la maternita', l'arte, la famiglia, per la Plath sono vissuti con profondo disagio e consapevolezza che le fragilita' non ci vengono mai del tutto perdonate. Essere all'altezza e cercare la propria strada negli anni Cinquanta come oggi, sono temi assolutamente attuali.
Per la mia tesi di laurea, scelsi una poesia di Sylvia Plath, The Disquieting Muses, ispirata all'omonimo dipinto di Giorgio de Chirico.Il mio cammino credo si sia tracciato in quel momento: scrittura e arti visive intercambiabili e necessarie per esprimermi. Ho sempre coltivato la poesia e la pittura. Mi esprimo con entrambe. Ma in Italia si viene guardati con sospetto, chi non si specializza in un solo campo ma ne attraversa diversi, si sente dire frequentemente: "non sei scrittrice", "non sei pittrice", "fai troppe cose, probabilmente le fai tutte male".
Vivo in nord Italia, in Friuli, ai piedi delle Prealpi, a Tarcento, che e' il paese di mio padre ed e' qui che morto quasi un anno fa e dove ho deciso di trasferirmi in un giorno di agosto del 2015.
Mio padre era il mio nord, e posso dire che la decisione di cambiare radicalmente luogo di vita, me l'ha suggerito lui quel 6 luglio dell'anno scorso. Ho sempre amato questi luoghi. Qui c'e' la casa dei miei avi, l'orto di mia nonna, i fiumi, le montagne, colori ineguagliabili.Sono nata nel sud Italia, mia mamma e' pugliese. Ho frequentato le scuole a Brindisi e poi il Liceo Artistico a Lecce (citta' famosissima per il barocco), poi l'universita' a Bologna (sede della piu' antica universita' del mondo occidentale e dove ho avuto l'onore di avere come professore Umberto Eco, ma anche Gianni Celati) e per 20 anni sono stata in Sardegna.Ora sono qui, in Friuli, ho uno studio che guarda i monti, dove scrivo e creo (appena avro' sistemato tutte le scatole piene della mia vita precedente), ho una bicicletta per spostarmi, le mie piante. E' una vita che somiglia a quella della Dickinson in fondo.
Il ritratto della Dickinson nasce da un'idea di mostra che ebbi 4 anni fa (e che poi non ho potuto realizzare).Volevo illustrare donne universalmente conosciute che avevano rappresentato qualcosa nella mia vita.Una ritrattistica che facesse ricordare che l'arte non ha sesso e spesso dimentica i ruoli importanti delle donne, anche oggi. Necessario ricordare alle giovani generazioni su quali spalle siamo seduti.La Dickinson, la Plath, Amelia Rosselli, che ho conosciuto personalmente e che ho potuto frequentare per qualche mese (mi incitava a scrivere scrivere scrivere e a lasciare tutto nei cassetti a sedimentare. Diceva poi "se non hai nulla da dire, stai zitta"), Grazia Deledda, premio Nobel tutto italiano e figlia della Sardegna, dove ho vissuto per due decenni. Ho usato medium insoliti. Principalmente il collage (ero reduce da un corso del MoMa con Katerina Lanfranco proprio sul collage) e l'acquerello.
Il collage mescolato alle tecniche tradizionali non e' una grande invenzione.Pero' amo i particolari stranianti e per la Dickinson ho usato le pagine strappate di Vogue. Quanto di pi lontano da Emily Dickinson: moda, glamour, luci e sfilate.L'effetto tuttavia e' rigoroso e serio, pur nelle pagine che narrano un mondo chiassoso e rutilante.Sulle pagine sono intervenuta con inchiostro nero e acquerello.
L'acquerello e' una mia rivincita, quasi un esercizio zen. Dopo un periodo ricco, carico, sovrabbondante di particolari, quasi barocco, ho scelto la via del 'togliere', del sottrarre.E l'acquerello non vuole stratificazioni che sporchino le velature, non vuole ritocchi continui. Voglio arrivare all'essenza, voglio ripulire, ridurre all'essenziale. E la poesia della Dickinson non ammette lungaggini, e' nitida e perfetta in forma e contenuto come un soffione nel vento prima che si spargano i semi.Il ritratto e' stato definito "Troppo 'evanescente", la Dickinson appare come in un dagherrotipo. E poi diamine, una poetessa! Come pu venirti in mente di ritrarre una poetessa morta e sepolta? Col collage? Roba da signorine vecchio stampo!
Ho appena traslocato e quel ritratto si trova ai piedi della mia scrivania, assieme a quello della Plath. Mi auguro che presto troveranno posto altrove, non amo collezionare me stessa, sono iper critica e autosabotante. Probabilmente sarebbero pi serene entrambe se uscissero dalla porta dello studio.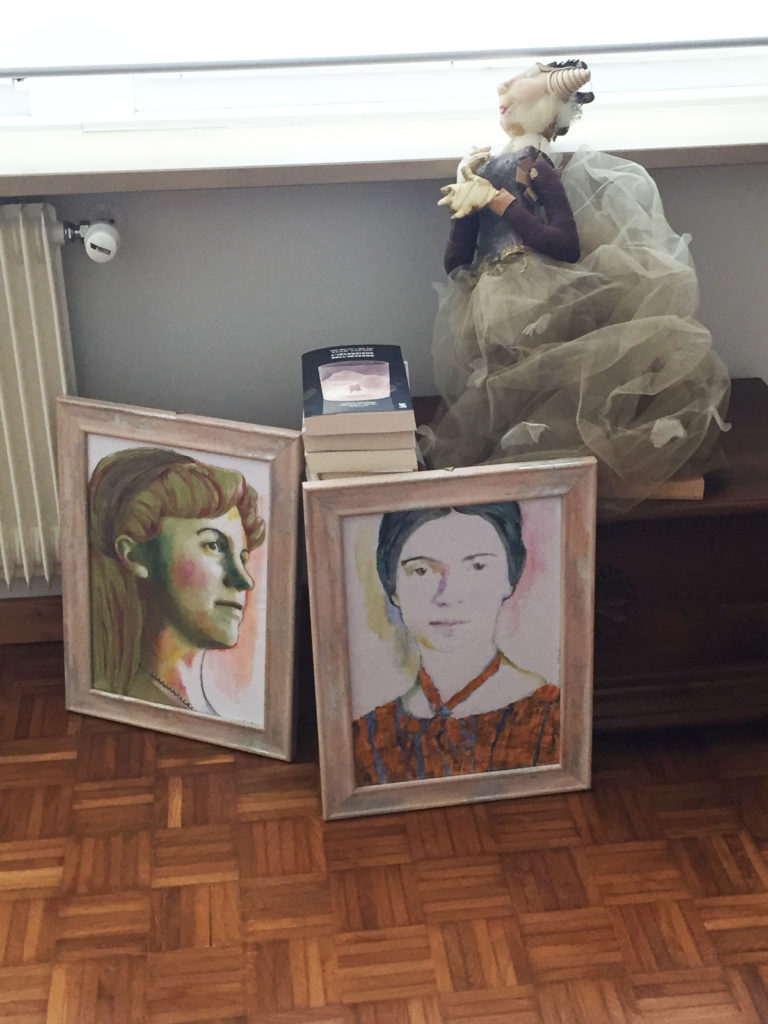 Non sono mai stata in America. Il viaggio che immagino da anni include Amherst e il New England,la casa di Pollock (dove vorrei calpestare il vetro che preserva il colore sul pavimento) e tutti i luoghi letterari e artistici di New York. Pero' penso anche ai luoghi della O'Keeffe e mille altri. Sara' dura scegliere. Intanto sogno.
Please follow and like us: